Get Started With Digtective
With three easy connections, Digtective server-side conversion tracking integrates directly to your webserver, ad platforms, and order management / CRM system.
We help you with integration and ongoing support.
How It Works
#1
The visitor clicks your link, ad or does a search in a search engine.
#2
The visitor arrives on your website and submits a form.
#3
Via API to your webserver, Digtective gives the submitted form a secret id.
#4
When the lead changes status in your CRM, an update is sent to Digtective.
#5
Once the lead is converted, the sales data is sent from the CRM to Digtective, attributed to the ad / link to show ad spend, sales, and profit.
Connecting Your Data Sources
# 1
Connect Your Webserver
Insert our serverside script and our script for form submission.
# 2
Connect CRM
Ready-made plugin for HubSpot and SuperOffice on WordPress, and available API for other CMS.
# 3
Connect Your Ad Platforms
Easy connection of your Facebook Ad Manager and Google Ads Account.

All Your Data In ONE Place
For Easy Ad Spend Optimization
Digtective will import all your marketing data, available in ONE place, ready for optimizing your ad spend, with one easy dashboard.
Monitoring of the effect of all digital marketing activities. One dashboard to cover all your channels, allowing you to spend time optimizing your campaigns and ad spending, rather than working on reports from multiple channels in excel.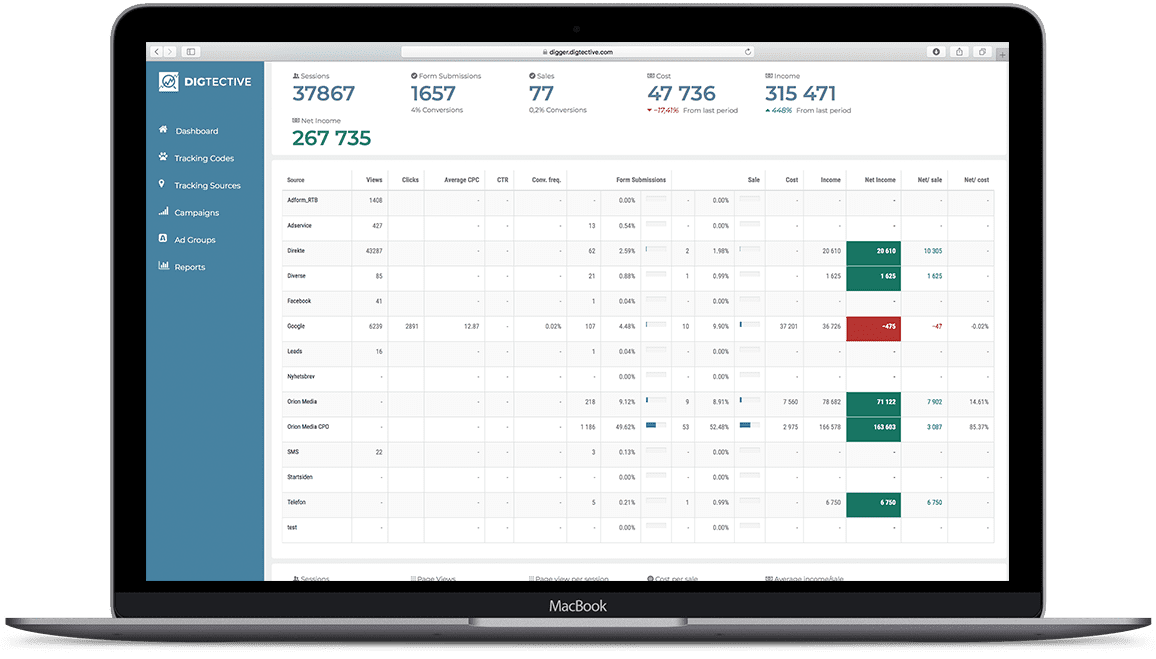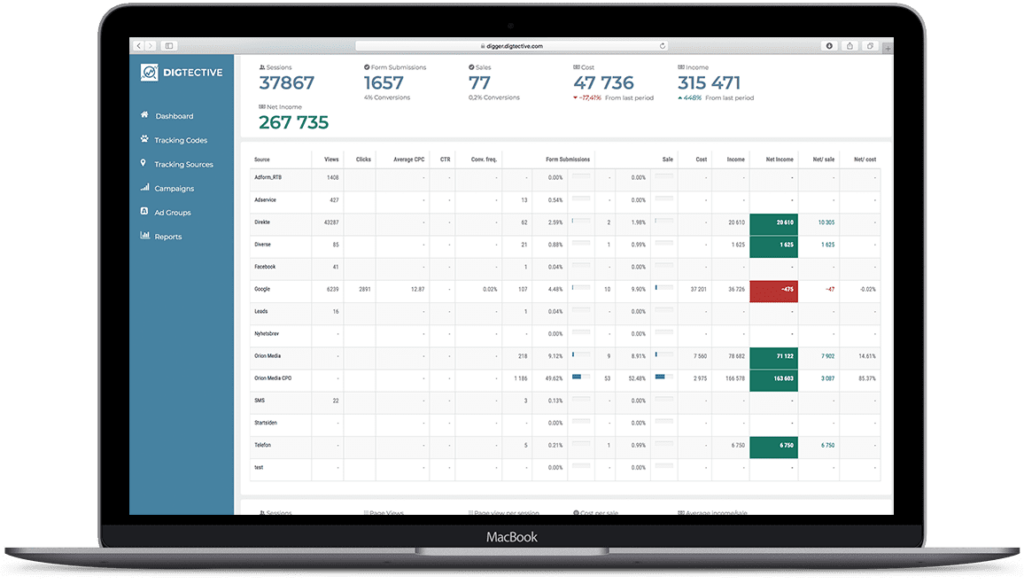 Easy Reporting Across All Channels
Easy reporting that shows you all your channels. Get all your data in only one dashboard. Reports may be imported into your data warehouse for comparison with your KPIs and attribution models. Digtective has ready-made integration to Excel, Google Data studio, and our API can also connect to your data warehouse.
Dedicated Support Contact
After integration, we will carefully take you through your onboarding process to set up your first campaign and make sure you understand the simple process of tracking exactly what you want.
Email support
Phone support
The only system that tracks leads 100% correct. Also well-suited for companies that sell services with long decision-making processes, and several steps between soft and hard conversions.


– Nina Hølke CEO Ko & Co
We are extremely pleased with having Digger integrated with our CRM-system to access additional features of the digital marketing software that has already boosted the number of firm leads. Having solved our marketing-related GDPR issues at the same time is a great relief.


– Lars Darvall CEO Finepart Sweden AB
Ready for a demo?
During a demo, we will answer any of your questions and show you how Digtective tracks your conversions across all channels, server-side, how to optimize your ad spend, and report across your channels, website, and order management system.
I would like a demo