Cookieless
Conversion Tracking & Data Integration Platform
One solution for server-side conversion tracking, optimizing your ad spend, easy reporting, and GDPR / CCPA compliant analytics data.
TRUSTED BY Banks, SAAS & AGENCIES
100% ACCURATE CONVERSION DATA –

COOKIE-FREE

Digtective integrates with your webserver (server-side tracking) to solve your challenge of missing conversion attribution, caused by third-party cookie blocks in IFT browsers, iOS devices, cookie banners, and incognito browsing. Now you can track your ad conversions with 100% accuracy across all your advertising platforms.
The only system that tracks leads 100% correct. Also well-suited for companies that sell services with long decision-making processes, and several steps between soft and hard conversions.


– Nina Hølke CEO Ko & Co
Some figures on what we measured to now
CUT YOUR WASTED AD SPEND,
OPTIMIZE & INCREASE YOUR GROWTH
ONE DASHBOARD TO SEE THE ADS THAT ARE LOSING AND MAKING MONEY, TO CUT WASTED AD SPEND AND INCREASE GROWTH
Reduce your wasted ad spend by reviewing your conversions against the revenue number of your choice, attributed to your marketing campaign, ad group, or individual ad in ONE simple dashboard. Now you can identify any ads that do not contribute to revenue, with 100% accuracy, in minutes, and scale your revenue growth.
Find ad losers and winners, in minutes

Ad performance review take only minutes

Cut wasted ad spend with more frequent reviews
Digtective is the only tool we need. The dashboard enables us to adjust ads and campaigns based on real-time ROI calculations. No more excel sheets with out-of-date information and guesswork.


– Vegard Stenberg CMO Uno Finans
We integrate to POPULAR ad Platforms
CONNECT LEAD GENERATION TO
HIGH VALUE CUSTOMERS OVER TIME
WE CAPTURE CONVERSIONS ON YOUR WEBSITE, PAYMENT PLATFORM & OFFLINE CRM CONVERSIONS
A web analytics and marketing data integration tool in ONE. We Integrate with all major paid advertising channels, your CRM and order management platforms, so you can see which channel, campaign, and ads generate profitable growth, in minutes.
Attribution to CRM conversions and revenue

Attribution to Payment Platform revenue

Attribution to Website conversions
We are extremely pleased with having Digger integrated with our CRM-system to access additional features of the digital marketing software that has already boosted the number of firm leads. Having solved our marketing-related GDPR issues at the same time is a great relief.

– Lars Darvall CEO Finepart Sweden AB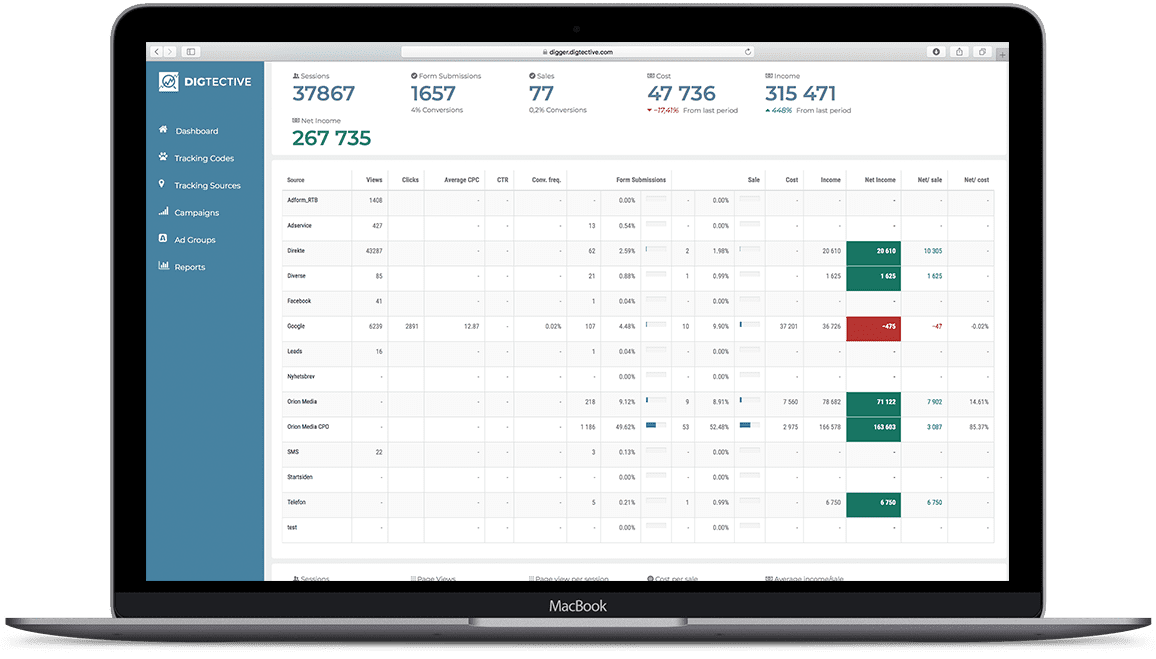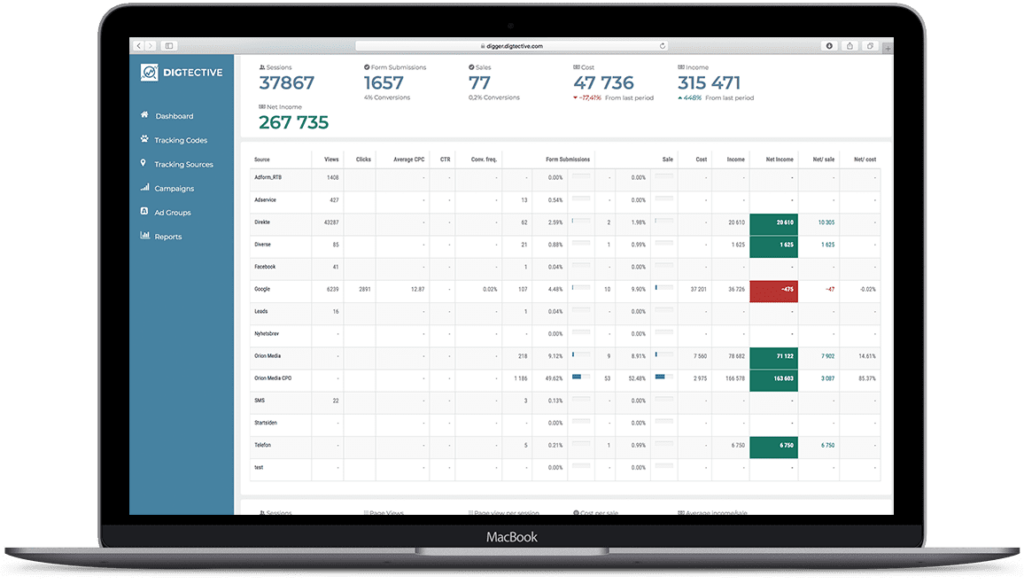 REPORTING DONE IN MINUTES

ACROSS AD CHANNELS, WEBSITE, SALES SYSTEM

NO MORE DATA COLLECTION THAT TAKES HOURS AND DAYS. ALL YOUR MARKETING DATA IN ONE PLACE

Eliminate the hours and days spent on reporting. Digtective integrates to all major advertising platforms, your website (server-side), your CRM and order management system, a analytics and marketing data system in ONE. Now you have all your data in one place to create your reporting in minutes, in your CRM system, Excel, Google Data Studio.
All your 100% accurate data in ONE place

Report across all your ad channels, website, CRM, and order management system.

Report in Excel, Google Data Studio, Google Sheets

Import data to your cloud server or datawarehouse
We integrate to POPULAR CRM & order management SYSTEMS
GDPR, E-PRIVACY, CCPA COMPLIANT ANALYTICS DATA
ELIMINATE THE RISK OF COLLECTING PRIVACY INFORMATION IN YOUR ANALYTICS DATA
Unintended collection of privacy data represents a major risk of big fines of up to 4% of a company's annual revenue. Eliminate the risk of collection of privacy data in your analytics data and start promoting your business as a protector of privacy.
Having solved our marketing-related GDPR issues at the same time is a great relief.

– Lars Darvall CEO Finepart Sweden AB
Get Started With Digtective
CONNECT
Install Digtective, and connect it directly with your existing CRM-system.
Don't worry, we will help you set it up.
MONITOR
Get important insight of the performance of all your digital marketing channels in one place.
Cut your expensive wasted ad spend.
OPTIMIZE
Tune your campaigns according to the ads and channels that have the best conversion rates.
Only spend money where it's making money.
GROW
Now you can measure what matters and spend money on ads that actually work, eliminating all that doesn't!
Trusted By
Banks, SaaS & Agencies
We are extremely pleased with having Digger integrated with our CRM-system to access additional features of the digital marketing software that has already boosted the number of firm leads. Having solved our marketing-related GDPR issues at the same time is a great relief.


– Lars Darvall, CEO Finepart Sweden AB
The easiest and best way to keep track of our ad spending, and with better data than we get in Analytics. What's not to like?


– Jakob Bronebakk CEO Mybank ASA
The only system that tracks leads 100% correct. Also well-suited for companies that sell services with long decision-making processes, and several steps between soft and hard conversions.


– Nina Hølke CEO Ko & Co
Digtective is the only tool we need. The dashboard enables us to adjust ads and campaigns based on real-time ROI calculations. No more excel sheets with out-of-date information and guesswork.


– Vegard Stenberg, CMO Uno Finans